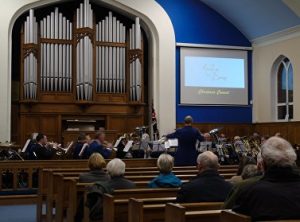 The band is definitely in the festive mood now after a very enjoyable Christmas concert at the band's home, the West End Methodist Church. The band played a full and varied programme, with plenty of Christmas themed pieces and carols for the audience to join in the festive cheer.
The proceeds from the concert went to the Tynedale Hospice.
Thanks to all those who helped to make the concert a great success – and a very merry Christmas to everyone!